Our summer reading has kicked off at our library, and like many others, we've chosen the CSLP theme of "Imagine Your Story," which celebrates fairy tales and fantasy books. So this whole month, I've been using fairy tales for an inspiration to Lego Club. Each build is broken into two parts. For the first part, we rebuild part of a classic story. Then for the second part, we use STEM and engineering to rethink a problem within the story. This isn't really a new idea, since I've seen plenty of "Three Little Pig" STEM ideas out there. But hopefully, these ideas and challenges will add to it!
So for this week, we're rebuilding "Little Red Riding Hood," and coming up with ways to trap the Big Bad Wolf!
So after a brief recap of the story, I told my kiddos that they first had to build Grandma's house from the story. Then they had to find a way to build at least one trap in the house to catch the wolf. It's like "Home Alone!" I then showed my examples to my kiddos–I remember from the story that the wolf jumps into bed and pretends to be the Grandma. So I decided all of the beds in the house would actually be traps.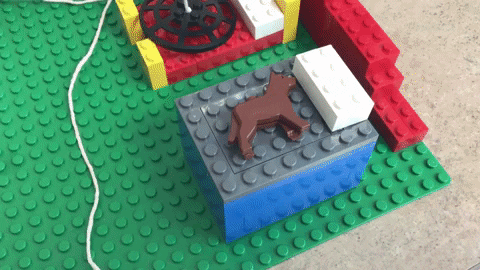 I came up with a few creative solutions to get rid of or trap the wolf like using a catapult or a net. But kiddos can come up with any way they choose. But I feel the keyword here is to say "trap" and "catch" the wolf, since I feel this sets a tone that nothing bad should happen to the wolf.
Annnd this is the part where I usually talk about what worked well and what didn't. We're still not doing in-house programming due to the outbreak, so it's difficult to workshop an idea when there's no kids 😦 This is one I would definitely do again.
Here's the video I made for my library's website that explains the challenge. Happy building!!
All blog entries are for educational or personal use. Please credit the original author if reblogging or posting ideas originally found on this site. LEGO® is a trademark of the LEGO Group of companies which does not sponsor, authorize or endorse this site.