The one question I always try to answer with my programming is "why?"  As in, "Why should I come to the library?"  It's always easier to not do something, then to go out and do something, so I always try to keep that in mind when programming.  Library programs should be engaging, inclusive, educational, and most importantly unique and fun.  THAT'S what's going to keep kids and adults back for more.  So boom, ROCKET CARS!!!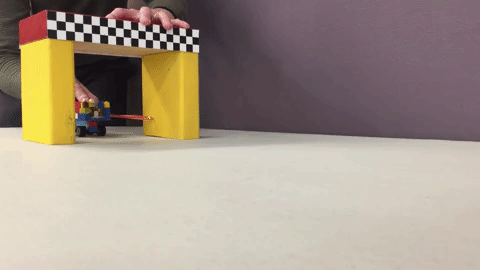 Setup for this one was pretty easy.  I came up with the idea myself, and then did some research on how to construct a launcher.  I took the premises off of these two designs here and here and combined them into an easy to make launcher.  It's just a Stonehenge block setup (10″ top block with 6″ walls) secured with some heavy duty wood screws.  Two smaller screws are placed lower on the walls to wrap a long rubber band around and launch the cars.  This setup was almost perfect, but it would have been nice though to use some sort of hooks instead of screws so that the rubber band could hook and make resetting easier.
The launcher was then placed on a row of four foldout tables.  Yes, you WILL need that many, because these things will fly!!  In retrospect, it would have been nice to have some crash walls on the table, as so many cars wiped out.  So I would recommend doing that if you have time.
Anyway, after rules, we talked about how we would be making cars.  BUT that was too easy, so this time around we would be making ROCKET CARS!!  I then gave a demonstration with a tiny car I made.  After the excitement, we tried talking about some of the positive things about this car, like how light it was so it would go farther.  Then we tried to talk about some of the negative aspects, like how it wasn't wide, or long, or heavy, so it was more inclined to roll.
After that I told kids to build 2 cars, and to not get too attached to them, as rocket cars are prone to blow up.  We built for about 15 minutes and then we started testing our cars on the launcher.  BUT before we did that we went over the rules:
Only I could use the launcher.
Everyone needs to stand back from the table.
That second rule is SUPER important.  They came out REALLY fast with no direction and there's always a possibility the rubber band could snap, so it was really important for everyone to stay safe. Their was a lot of excitement and kids forgot this rule a lot, so before launching make sure everyone is at a safe distance.
We stopped every 10 minutes or so to talk about what was working and what wasn't working with our rocket cars.  A lot of the little kiddos didn't really care and wanted to just launch whatever and see their cars rip apart, and that's okay!  I tried talking with them about what they think might happen and politely show them some design flaws.  But the older kids listened and definitely tried to make theirs better with some success!!
Definitely unique and LOTS of fun!!  Here's a video showing the launcher in action:
All blog entries are for educational or personal use.  Please credit the original author if reblogging or posting ideas originally found on this site.  LEGO® is a trademark of the LEGO Group of companies which does not sponsor, authorize or endorse this site.