WRECKING BALL TIME!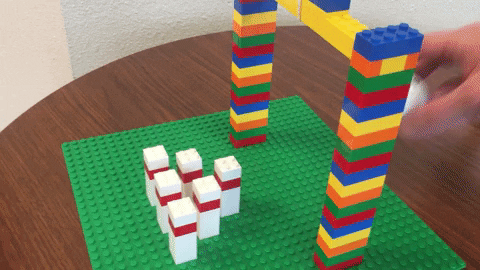 I came up with this one when I saw this post, where kids use an apple as a wrecking ball.  But as always, I wanted to put my own spin on it and make it accessible to my Lego Club kiddos.  So after going over rules, I told my kids that today we would be making WRECKING BALLS!  They could make their towers however they wanted and put whatever obstacles they wanted in the way of their wrecking ball, like minifigs, towers, or big bowling pins.
Making the balls was easy, I just bought some cheap golf balls and some closed hook screws.  I used a drill to make a guide hole in each of them, then just screwed in the hooks.  EASY!!
During building, I went around to the tables and showed my example as usual.  From there I basically just made sure everyone's tower could hold the weight of their golf balls, and demonstrated that a taller base will give you more room to swing and more damage–so there's great STEM potential in this one.
This one involved a bit more parental involvement than usual, but that's okay!  Parental engagement is a great way to learn, and I just love listening in on conversations between parents and kids about why things might not work and trying to problem solve together.  It's always better to aim high and have your kids ask for help, then to do something easy that's not truly a challenge.
Sharing was really cool, as kiddos love to share and show their towers getting knocked over.  Lots of cool designs as always!!
All blog entries are for educational or personal use.  Please credit the original author if reblogging or posting ideas originally found on this site.  LEGO® is a trademark of the LEGO Group of companies which does not sponsor, authorize or endorse this site.