This one is pretty self-explanatory.  All I did was combine my idea for "Wind Racers" and my idea for "Water Works."   I liked this one because it's definitely something you wouldn't think was possible until you actually did it.  But you can make a floating boat out of Legos!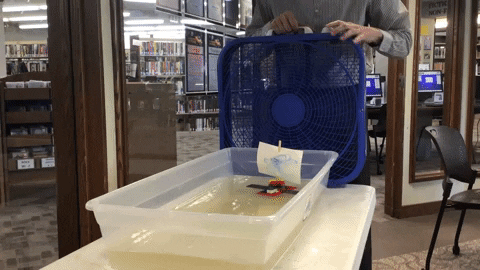 So after we went over rules, I told my kids that we would be making boats.  But then I told them that that was too easy, so each boat had to float.  But then I told them that THAT was too easy too, so each boat had to support a sail.  Because at the end of the hour, we would be racing our boats!
All that you need is a giant box fan to make the boats go.  Wooden dowels work great for the masts, and kids can make their own sails out of cardstock.  I also used a really long Tupperware box for the race track.  Pretty simple!
While my kiddos were building, I went around and showed everyone how I put my sail on.  You just basically build a giant chimney in the middle of your piece and stick the dowel in the middle.  Half-way through the building time we got to test to see if the boats floated–not to see how fast they were since I thought that would be too distracting.  I would then ask them questions about how they could improve their design, they were usually too small and got toppled by the sail or too open and would let water in.  By the end basically everyone had a working boat!  We spent the last 10 minutes or so racing for fun!!
All blog entries are for educational or personal use.  Please credit the original author if reblogging or posting ideas originally found on this site.  LEGO® is a trademark of the LEGO Group of companies which does not sponsor, authorize or endorse this site.