Jolly good program idea!  I saw this idea originally on Storytime Underground here, and definitely wanted to put my own spin on it.  Tea parties will always be a big draw to the library, and I think putting a dinosaur spin on it makes it a lot more inclusive.
First thing I did was try to find a fun way to advertise it.  So I borrowed an inflatable dinosaur costume from my friend, and decided to make some etiquette films!  Here are the first three:
After promoting for a few weeks, we were ready for our event!  We did ask kids to register just so we knew how many to expect, although we did not turn anyone away that didn't register.  We also encouraged kids to either dress up in tea party attire, dinosaur costumes, or both!
CRAFTS
Tea Rex Puppets
I'm REALLY proud of the Tea Rex Puppets I made.  They look really cute and the'll definitely keep kids busy.  Plus putting the hats on them really ties the two themes together well, since I didn't want either theme of dinosaurs or tea party to dominate the event.
You can pick up a copy of the instructions and coloring sheet here.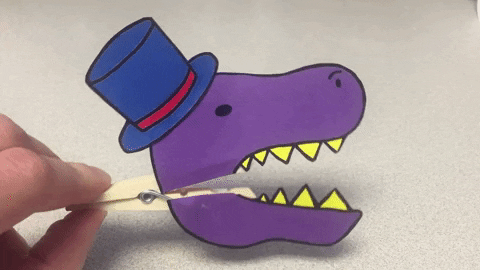 Tea Cups
My next craft was a Tea Rex Tea Cup.  This one I got directly from a great website called Red Ted Art–all I did was add the big dinosaur bite out of the cup.  For that I used some edging or pattern scissors.
You can download a copy of the Red Ted Art tea cup template here, you just need to give them your email and they'll give it to you for free!
GAMES
Feed the T-Rex
I thought it would be fun to do some sort of ball toss into a dinosaur's mouth.  I had some extra time so I thought it would be even better to make the mouth 3D!!  It was surprisingly simple to make.  I first found someone that did something similar here, and then just made my own template.
The sides are just two large pear shapes about 2.5 feet long that are made out of cardboard.  I then clipped them to a heavy duty iPad stand, so that it could hold all the weight.  Then I used a flexible measuring tape to measure how much cardboard I would need for the top.  Using that measurement, I made one really long trapezoid out of cardboard to lay on top.  I scored it every 2 inches or so, so that the cardboard would lay flat on the top of the head and was able to bend with all the curves, especially  on the dinosaur's snout.  From there, it was just decorating it.  I'm thinking my kiddos will try to throw paper airplanes into it's mouth.
T-Rex Tea Party Word Search
I threw this together pretty quick–I like that it combines both themes like the puppets.  It's a bit difficult so it will be a great way to eat up some time or could also be a take home project.  You can download a copy along with the answer key here for free.
Ring Toss "Triceratoss"
I saw this on Pinterest and definitely wanted to add it to my event.  So I made my own template, then traced it on to a big piece of paper.  The school was nice enough to laminate it for me so that it would last longer.  You can find my template here if you need it–it's meant for cones that are 5 inches wide at the base.  You can find them online easily enough.
Tea Maze
I made this for a tea party at my old library, but it still fits the theme!  You can find a copy here, but no answer key yet.
More updates coming later!!  Stay tuned!